Department Details
Contact Details
This page is being updated.
Introduction to The Department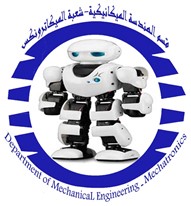 Mechatronics engineering is concerned with integrating and integrating both mechanical engineering and electronic engineering in addition to computer programming and control engineering within a unified framework with the aim of designing and developing devices, machines and equipment that are characterized by speed, accuracy and distinctive performance. The computer to control the movement of the parts, the measuring devices and sensors to monitor the state of the system and its movement, and the electronics and electrical circuits to connect the parts of the system together.
Department Vision: - Achieving leadership in the field of engineering higher education and gaining the confidence of the local and regional community in the graduate of the program.

Department Message:- The program seeks to provide educational and learning resources in the field of mechatronics and the application of total quality in a sound scientific framework in order to prepare distinguished engineers who are qualified and qualified in scientific, practical, professional and research terms to meet the labor market. And also to be a role model in transferring knowledge, localizing technology, and serving and developing the local and regional community.
Department Staff